Sycamore – District 14 Representative Lauren Underwood opened her new office this weekend in Sycamore, Illinois.
The grand opening took place at 11:30 a.m. on Sunday, April 24 at 407 West State St.
Despite the cold, rainy weather, 110 people of all ages showed up to offer Underwood their support and struggled to squeeze into the narrow hallways of the offices.
Upon arrival, employees greeted people at the door with an attendance sheet.
Each individual was encouraged to write on a strip of construction paper what they believed was important to them and their community. People wrote 'passion', 'trust', 'compassion', 'honesty' and more. These slips of paper must be linked together to create a chain that will hang in Underwood's office.
The office was filled with decorations that exemplified the personality. The hallway was lined with words of encouragement to District 14 residents, and a giant calendar hung on the wall to let people know what's happening next week with "Team Underwood."
"We like to make things fun and relevant and make people feel comfortable being here…it's for the community," Underwood said.
As the spring semester draws to a close, Underwood and his team are excited to engage with more NIU students in the upcoming fall semester.
"We're really laying the groundwork to have a big presence in the fall," Underwood said. "So you're going to see a lot more."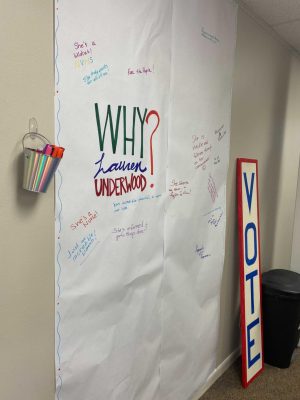 Social worker Amanda Stuck from Sycamore came out to show her support for Rep. Underwood because she's confident she will prioritize not just health care, but mental health as well.
"I think it's something that absolutely needs to be incorporated into regular health care and treated the same way," Stuck said.
Rep. Underwood addressed her supporters with a welcome speech where she was able to express some of the changes she still wants to make, such as getting rid of the filibuster in Congress.
"It's an anti-democratic practice, the filibuster, which is why I called for the filibuster to be eliminated," Underwood said.
Rep. Underwood expressed frustration with the Supreme Court's expected outcome in Roe v. Wade this summer, but informed her audience that she hadn't given up, and neither had they.
"A lot of our neighbors in the Midwest are going to have their rights taken away. We can't give up in this fight," Underwood said, "We're not going back to people who die trying to get health care. We will continue to fight and talk about it.
Rep. Underwood is urging people to vote in the next primary this summer, June 28.
"We are going to make sure that people not only go to the polls, but that they are motivated to vote. They're excited to vote, and they're going to vote Democrats on every ballot," Underwood said. "We need to make sure that in this community we run for all of our Democratic candidates because we can make changes in DeKalb County when we vote."