Chatspin Launches Video Chat AR Face Filters On Desktop In World First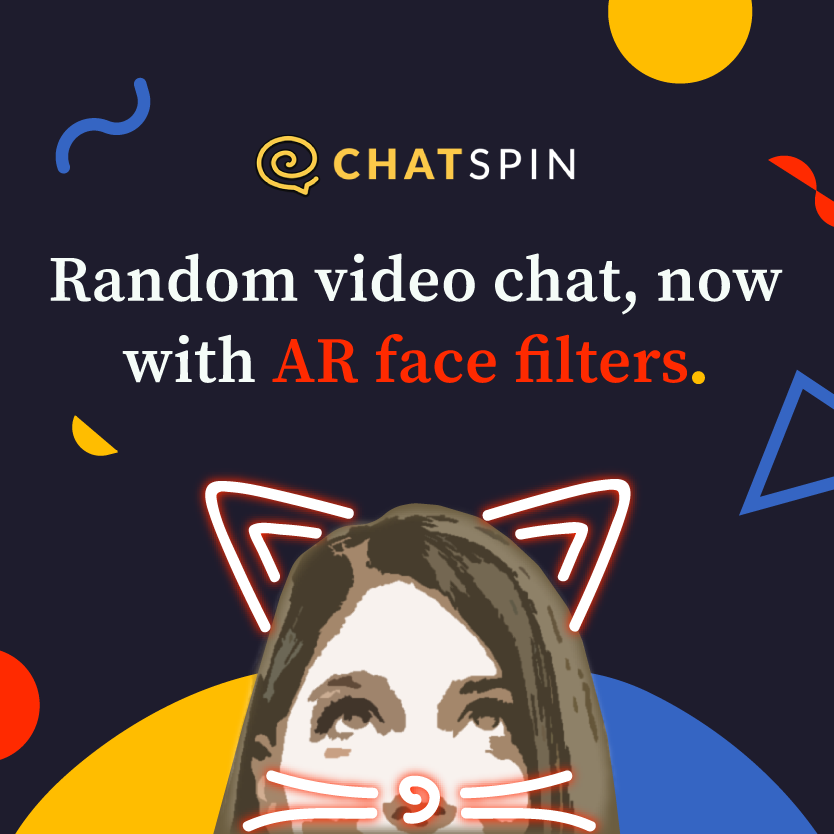 Introducing AR face filters to our desktop platform will allow us to stand out from all other video chat services and increase the fun that users can have when meeting other people in the chat. video from Chatspin's web browser.
LOS ANGELES (PRWEB)
November 20, 2018
Chatspin, a popular mobile and desktop app that randomly connects strangers via video chat, is set to launch the world's first AR face filters for the World Wide Web. The hugely popular filters can be found in countless apps on Apple and Google Play stores right now, but have yet to find their way onto web browser chat platforms until now.
Following the success of face filters on mobile apps, Chatspin looked for a way to implement the feature on their desktop app which has remained the primary source of traffic for the random video chat platform despite success in the Google play store.
The time users spend on mobile apps increased only 6% in 2017, a significant drop of 11% from the previous year. The same study, published by Techcrunch, shows that lifestyle apps like video chat services were hit the hardest with a 40% decrease in usage from 2016. Techcrunch also released a sister study showing that 51% of US mobile users do not download any apps for a month.
Another study, published by Stone temple, has shown that if US users visit more websites via their mobile devices, the time spent on these sites increases dramatically for desktop users. Based on 513 trillion seconds of visits during 2017, the report found that American users stay on a website on average more than two minutes longer than when using their mobile. Globally, the data, based on 2.6 quadrillion seconds of visitation, shows a difference in time spent on a website of almost three minutes in favor of desktop users.
This data goes against popular belief that the mobile revolution will kill the majority of desktop use and shows the importance of continually maintaining websites and desktop platforms with new features. and technologies.
"We are delighted to announce a world first at Chatspin," said Shay Robin, Chatspin Press Manager, "The introduction of AR face filters to our desktop platform will set us apart from all the other video chat services and to increase the fun that users can have when meeting other people on Chatspin's web browser 'video chat.
AR face filters will introduce yet another free feature to the Chatspin desktop platform. Users can apply effects like glasses, hats, makeup, costumes, masquerades and other fun masks while chatting live with people around the world. To have fun, users only need a computer, a webcam and an Internet connection.
About Chatspin

Chatspin is a random video chat app available on Android and web browsers with an iTunes version coming soon. The chat platform allows users to connect with strangers around the world using a webcam and an internet connection. Users can take advantage of features such as camera filters and effects, genre filters, country filters, an intuitive and simple interface, and control of audio and visual settings. The service simultaneously connects tens of thousands of people randomly every day.
Share the article on social media or by email: