Chatspin Adds New Video Chat Features To Popular One-On-One Live Streaming App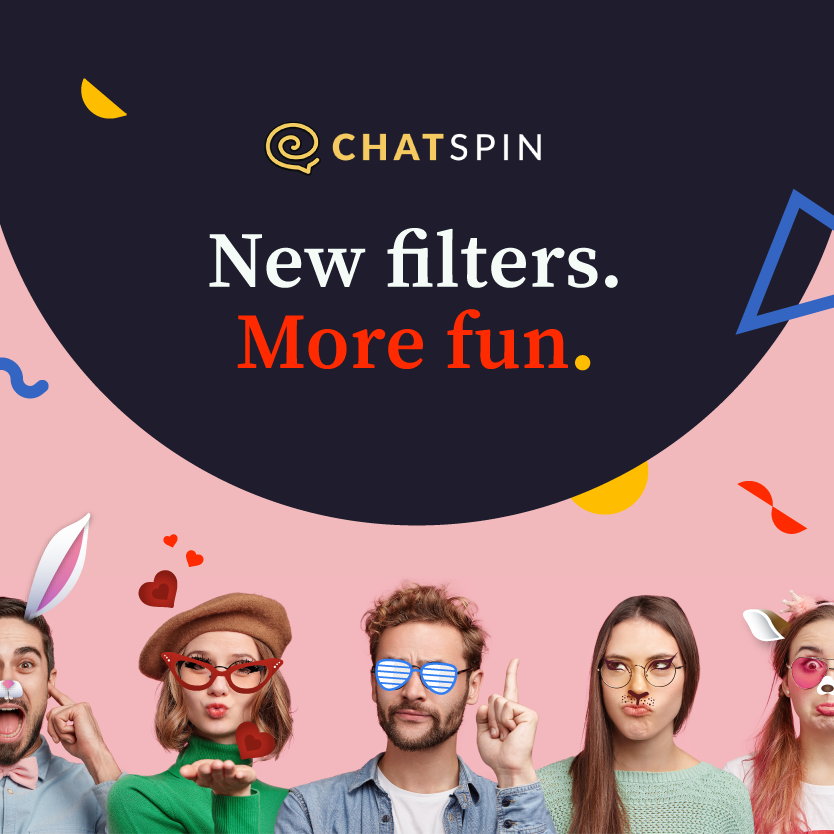 Now users can enjoy perks like fun filters, easier to use layout and better personal safety when meeting strangers on Chatspin.
LOS ANGELES (PRWEB)
December 04, 2018
Chatspin, a cross-platform live video streaming application, has announced the release of an update that brings a host of new features to the platform. Among the additions is the implementation of AR face filters that allow users to apply effects in real time while using video chat to meet new people. Other features include location and gender filters which make the platform more secure and easier to use.
The use of social video chat applications has exploded in recent years with a study of NPD indicating that more than half of all millennials use real-time video capabilities on their smartphones. The same study also found that video chatting is the third most popular activity among people aged 18-34, listening to music and posting / downloading videos are the two most popular activities, respectively.
The ability to meet new people quickly and easily face-to-face on a smartphone, however, should be taken seriously and is a main goal of Chatspin's new features. While fun to use, Chatspin's latest update also increases security for users who wish to remain anonymous while using the chat platform. AR face filters can mask a person's identity while still allowing them to participate in real-time video chat. Likewise, geographic and gender-based filters can ensure that people only connect with strangers they are comfortable meeting with. For example, if a woman feels uncomfortable with all male attention, she may choose to connect only with other women.
"Our industry research, feedback from existing users, and our desire to be a leader in video chat technology are all factors in our latest update," said Shay Robin, Chatspin Press Officer . to use the layout and better personal security when meeting strangers on Chatspin ".
The update is expected to roll out to both the mobile app and the desktop platform on November 19, 2018. All Chatspin users will have access to the latest features, including advanced AR face filters and the ability to connect only with people of a specific geographic location or desired gender.
About Chatspin

Chatspin is a free random video chat app that is available on Android and web browsers with an iTunes version coming soon. The chat platform allows users to connect with strangers around the world using a webcam and internet connection. Users can take advantage of features such as camera filters and effects, genre filters, country filters, an intuitive and simple interface, and control of audio and visual settings. The service simultaneously connects tens of thousands of people randomly every day.
Share the article on social media or by email: